Get composition data on virtually any sample in minutes. The Thermo Scientific™ ARL™ QUANT'X EDXRF Spectrometer provides major, minor and trace element quantification across the broadest range of samples, including bulk solids, granules, powders, thin films and liquids. Featuring standardless software and accessories, this complete benchtop EDXRF (Energy Dispersive X-ray Fluorescence) system meets the elemental analysis needs of central and contract laboratories, as well as the environmental monitoring, chemicals, mining, forensics, food, cement and metals industries.
The ARL QUANT'X EDXRF spectrometer offers the ultimate in performance, versatility and reliability of elemental analysis. Its compact desktop design, close-coupled optics and advanced electrically cooled detectors allow for unsurpassed analytical precision in a wide dynamic range from ppm to percent elemental concentrations.

The ARL QUANT'X EDXRF has become even more powerful! It is fitted with one of the latest generation SDD detectors. Fitted with a thin window and capable of handling high count rates at excellent resolutions, it brings superior performance across the periodic table, from light to heavy elements. Compared to the Si(Li) based ARL QUANT'X, the new version shows better sensitivities across the periodic table effectively improving precision and detection limits by a factor 2. Alternatively the counting time can be reduced by factor four on average!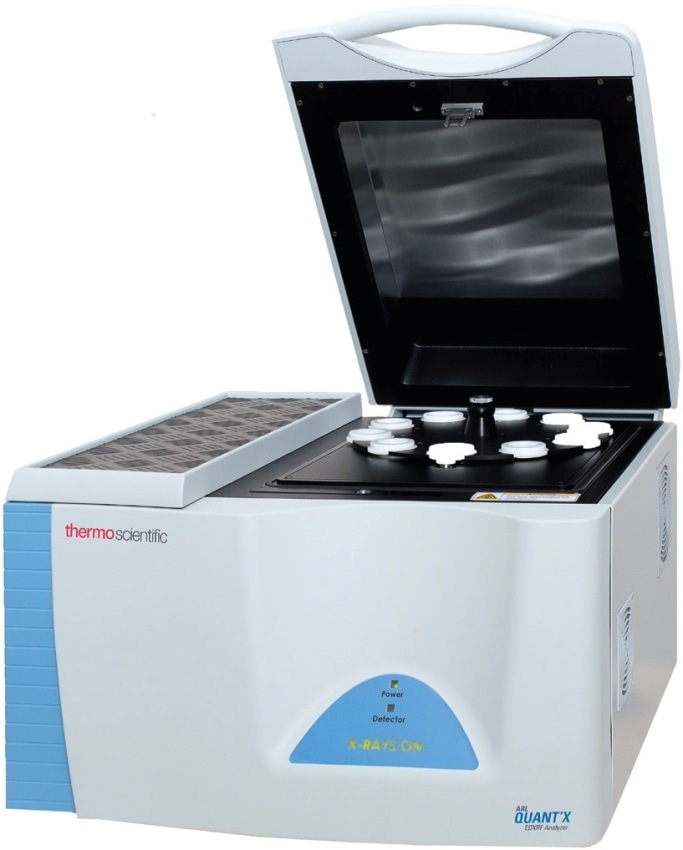 Advanced Technology
Latest generation silicon drift detector (SDD)
Advanced Digital Pulse Processing (DPP) technology
High-performance, multi-element analysis
Optional Thermo Scientific™ UniQuant™ software for superior standardless analysis
Main Features
Exceptional sensitivity for trace analysis
High measurement throughput for process control
Advanced analytical algorithms for atypical materials
Outstanding sample-handling flexibility
Mechanical simplicity and reliability
Compact footprint and ease of transport for field measurements
Rapid, easy installation and complete on-site customization
Complete laboratory start-up package included
Allows sample analysis in air, vacuum and helium
Proven hardware and all-inclusive software
On-site, collaborative method development
Full technical applications support
Expertise across hundreds of applications
Large sample chamber, camera, and wide range of collimators
Powerful, Easy to Use Thermo Scientific™ WinTrace™ Software
Standardless and semi-standardless analysis.
Fundamental Parameters (FP) and empirical methods with standards
Multi-layer thickness and composition
Unlimited elements, unlimited number of standards
Simple results transmission to external computer or LIMS
Support of nine languages and more
Multiple excitation conditions with automated operation
Optional UniQuant Advanced Standardless Analysis
Going further than any other FP analysis, the optional UniQuant program collects all emission lines of all possible elements from fluorine to uranium. This complete spectral profile of the sample allows UniQuant to automatically correct for all possible overlap and background effects, which are especially complex in energy-dispersive spectra
All elements are always analyzed
Each sample's unique physical properties, i.e. area, height, and mass are included in the calculation
Long-term changes in X-ray tube output are corrected
A variety of selectable reporting levels and formats present the results clearly for any type of user
UniQuant comes completely pre-calibrated and ready for use
Recommended for
Cement, feed and alternative fuels
Forensics and trace element analysis
Gemstones, precious metals and jewelry analysis
RoHS / WEEE screening for toxins in plastics
Oil industry products
Plastics and polymers
Environmental applications
Waste sludges and used oils
Nutritional supplements
Soil contamination and other environmental screening
Monitoring corrosion of cooling water circuits
Cement, feed and alternative fuels
Metallurgical slags and mining ores
Catalysts and chemicals
Thin films on filters
Aerosol particulate filters